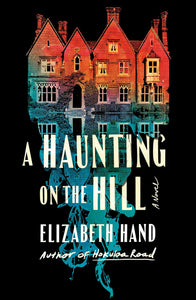 New release! From three-time Shirley Jackson, World Fantasy, and Nebula Award-winning author Elizabeth Hand comes the first-ever authorized novel to return to the world of Shirley Jackson's  The Haunting of Hill House:  a suspenseful, contemporary, and terrifying story of longing and isolation all its own.
 
Holly Sherwin has been a struggling playwright for years, but now, after receiving a grant to develop her play, The Witch of Edmonton, she may finally be close to her big break. All she needs is time and space to bring her vision to life. When she stumbles across Hill House on a weekend getaway upstate, she is immediately taken in by the ornate, if crumbling, gothic mansion, nearly hidden outside a remote village. It's enormous, old, and ever-so eerie—the perfect place to develop and rehearse her play.
 
Despite her own hesitations, Holly's girlfriend, Nisa, agrees to join Holly in renting the house out for a month, and soon a troupe of actors, each with ghosts of their own, arrive. Yet as they settle in, the house's peculiarities are made known: strange creatures stalk the grounds,  disturbing sounds echo throughout the halls, and time itself seems to shift.  All too soon, Holly and her friends find themselves at odds not just with one another, but with the house itself. It seems something has been waiting in Hill House all these years, and it no longer intends to walk alone . . . 

By Elizabeth Hand. Hardcover. 336 pages. Published by Mulholland Books, 2023.