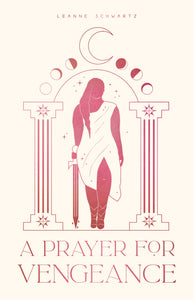 New release! An orphan out to find the truth within a warped religion turns his poetry into prayer―a prayer that awakens a cursed girl hungry for revenge.

Centuries after a miracle vanquished Tresttato's monsters and turned the soldiers fighting them to stone, Milo lovingly tends to the statues of those who protected the city. Raised with devout templars and scholars, autistic temple ward Milo wants nothing more than to be accepted into their ranks. When his prayers admiring her heroic sacrifice accidentally free Gia from stone, she wakes with a fury to kill the man Milo owes his life to, Primo Sanct Ennio.

Gia claims that the immortal holy leader Milo lives to serve is the same man who betrayed her and transformed her into a statue―and what Milo always believed was a miracle was actually a curse that Gia will stop at nothing to break. Even if she has to kill his followers to do it. Even if she must kill the boy who woke her.
By Leanne Schwartz. Hardcover. 368 pages. Published by Page Street YA, 2023.