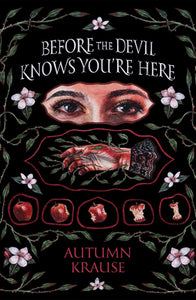 New release! A deliciously dark folk horror for fans of Maggie Stiefvater and Erin Craig, blending the tall tales of Johnny Appleseed and Paul Bunyan with Faustian elements, and centering a fierce Mexican-American poet on a quest to rescue her brother.

1836. Wisconsin Territory. All Catalina has left is her little brother—Mama died years ago, and Papa was buried just yesterday. She and Jose Luis are alone now, in their ramshackle cabin on the edge of the Wisconsin wilderness, with the cold weather coming.

As Catalina sets plans to ensure their survival, a strange man appears—a man covered in bark, leaves growing from his head, and sap dripping from his eyes. Before Catalina can stop him, he scoops Jose Luis up and disappears. He leaves behind a strange bird with crimson wings. She can't let this man—if that's what he is—have her brother. With no idea where they've gone, she tracks the bird in hopes it will lead her to Jose Luis.

Along the way she finds help from a young Paul Bunyan, whose life has also been changed by the Man of Sap. As they travel deeper into the Northwoods, they uncover more of the Man of Sap's history and the connections he and Catalina share, ultimately learning her fate is deeply entwined with his—set in seeds planted long ago—and now, giving her the power to change his life, or end it.
By Autumn Krause. Hardcover. 352 pages. Ages 14+. Published by Peachtree Teen, 2023.