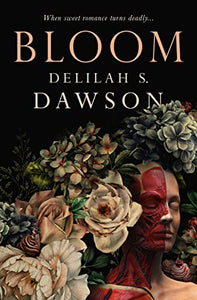 New release! A sweet sapphic romance takes a deadly dark turn in this sharp-as-a-knife tale with the slow build menace of Angela Carter's The Bloody Chamber— from a New York Times-bestselling author hailed by Chuck Wendig as "a storyteller working at the top of her class."

Rosemary meets Ash at the farmers' market. Ash—precise, pretty, and practically perfect—sells bars of soap in delicate pastel colors, sprinkle-spackled cupcakes stacked on scalloped stands, beeswax candles, jelly jars of honey, and glossy green plants.
Ro has never felt this way about another woman; with Ash, she wants to be her and have her in equal measure. But as her obsession with Ash consumes her, she may find she's not the one doing the devouring…

Told in lush, delectable prose, this is a deliciously dark tale of passion taking an unsavory turn...
By Delilah S. Dawson. Hardcover. 208 pages. Published by Titan Books, 2023.