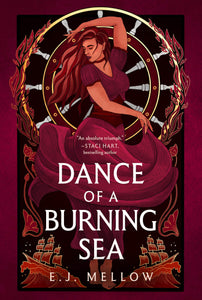 Victoria recommends! Within the world of Aadilor, there is a hidden place called the Thief Kingdom, where both magic and pleasure abound. There, the Mousai, a trio of deadly sorceresses bound by oath and blood, use their powers to protect the kingdom's treasures.

Niya Bassette brings the potent gift of dance to the Mousai, but behind her tempting twirls, she carries a heavy secret—that the infamous pirate lord, Alōs Ezra, has been threatening to exploit for years. Now banished from the Thief Kingdom for smuggling, Alōs resurfaces in Niya's life with a plot to hold her hostage, leveraging what he knows to extort a pardon from the Thief King.

But Niya makes her own deal with Alōs to guard her secret and guarantee her freedom—yet in doing so binds herself aboard his pirate ship, where she must navigate deadly waters, a bloodthirsty crew, and her own traitorous heart. Soon, a simmering attraction between her and Alōs threatens their delicate truce and makes for a tumultuous ride on the open seas. Far from her kingdom, Niya is entangled in a dangerous dance indeed.

Welcome to the world of Aadilor, where dark deeds can mask noble hearts and the most alluring of sways often ends with a burn. Care for a spin?

From award-winning author E. J. Mellow comes the thrilling second installment in the Mousai series, featuring a powerful sorceress who finds her loyalties tested by a ruthless pirate lord.
By E.J. Mellow. Paperback. 512 pages. Published by Montlake, 2021.
Victoria's review: A fun fantasy-romance with clever world-building, a nimble plot, tons of character development and a romance I actually enjoyed -- which can be hard in this genre! It was a rough start for me, and I was considering putting it down, but I'm glad I powered through. There are some smaller elements I struggled with, like the character's magic internally speaking to them, which only ever felt like Gollum from LOTR to me, and the stodgy pace of the solid first quarter, if not more, of the book. But overall, this is a very enjoyable read, and I think this is a good example of how and when to reveal backstories to best suit the plot.