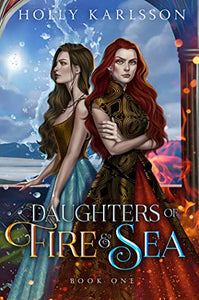 The first in an unforgettable epic fantasy series, Daughters of Fire & Sea is a story of sisters, magical adventure, betrayal, war, and dragons...

Abandoned by their mother, Elaina, at fifteen, twin sisters Lyric and Runa Graymorn are accustomed to living on their own. They'd always known there were secrets in their past, but when Elaina's unexpected return threatens their lives, the sisters must flee from the only home they've ever known.

Embarking on an incredible journey deep into the Veil of the Underworld and out along the Tainted Shore, Lyric and Runa are shocked to learn myths are more real than they imagined and there is magic in their blood; magic they can use.

How will they respond to their new role as pawns at the heart of an age-old war? Will their bond survive their dangerous journey?

The survival of their entire world rests on their actions. 
By Holly Karlsson. Paperback. 402 pages. Published 2021.