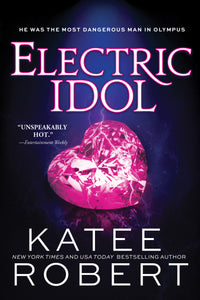 He was the most beautiful man alive.
And if I wasn't careful, he was going to be my death.

*A scorchingly hot modern retelling of Psyche and Eros that's as sinful as it is sweet.*

In the ultra-modern city of Olympus, there's always a price to pay. Psyche knew she'd have to face Aphrodite's ire eventually, but she never expected her literal heart to be at stake...or for Aphrodite's gorgeous son to be the one ordered to strike the killing blow.

Eros has no problem shedding blood. But when it comes time to take out his latest target, he can't do it. Confused by his reaction to Psyche, he does the only thing he can think of to keep her safe: he marries her. Psyche vows to make Eros's life a living hell until they find a way out of this mess. But as lines blur and loyalties shift, she realizes he might take her heart after all...and she's not sure she can survive the loss.
By Katee Robert. 375 pages. Published by Sourcebooks Casablanca, 2022.