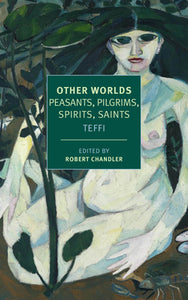 Stories about the occult, folk religions, superstition, and spiritual customs in Russia by one of the most essential 20th-century writers of short fiction and essays.

Though best known for her comic and satirical sketches of pre-Revolutionary Russia, Teffi was a writer of great range and human sympathy. At times she had to warn her readers that "those seeking laughter should not turn on me and tear me to pieces if, instead, they find tears - the pearls of my soul." The stories on other-worldly themes in this collection are some of Teffi's finest and most profound, displaying her acute psychological sensitivity beneath her characteristic wit and surface brilliance.

Spanning nearly forty years, from stories Teffi wrote in Moscow to those from her perspective as an emigrant in Paris, Other Worlds gathers together those stories that share the theme of religious experience, both Russian Orthodox Christianity and Russian folk belief, with its often poetic understanding of spiritual matters. In an early story, "A Quiet Backwater," a laundress gives a long disquisition on the name days of the different birds, insects, and animals, as well as the Feast of the Holy Spirit, a day on which "no one dares to trouble the earth." The story "Wild Evening" is about the fear of the unknown; "The Kind that Walk," a penetrating study of anti-Semitism, and of xenophobia more generally; and "Baba-Yaga," about the archetypal Russian witch and her longing for wildness and freedom. Teffi traces the persistent influence of the ancient Slavic gods in legends, superstitions, and customs, and the deep connection of the supernatural to everyday life in the Russian provinces. In "Volya," the final autobiographical story, the power and pain of Baba Yaga is Teffi's own.
By Teffi. Paperback. 256 pages. Published by New York Review of Books, 2021.