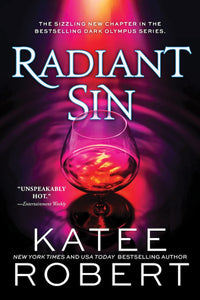 There's nowhere more dangerous than Olympus...and no one more captivating than its golden god: Apollo. Keeper of secrets, master of his shining realm...and the only man I am powerless to deny.

*A scorchingly hot modern retelling of Apollo and Cassandra that's as sinful as it is sweet.*

As a disgraced member of a fallen house, Cassandra Gataki has seen firsthand what comes from trusting the venomous Thirteen. But when the maddeningly gorgeous and kind Apollo asks her to go undercover as his plus-one at a week-long party hosted by a dangerous new power player...Cassandra reluctantly agrees to have his back.

On one condition: when it's all over, and Apollo has the ammunition he needs to protect Olympus, she and her sister will be allowed to leave. For good.

Apollo may be the city's official spymaster, but it's his ability to inspire others that keeps him at the top. Despite what the rest of Olympus says, there's no one he trusts more than Cassandra. Yet even as their fake relationship takes a wicked turn for the scaldingly hot, a very real danger surfaces... threatening not only Cassandra and Apollo, but the very heart of Olympus itself.
By Katee Robert. Paperback. 320 pages. Published by Sourcebooks Casablanca, 2023.