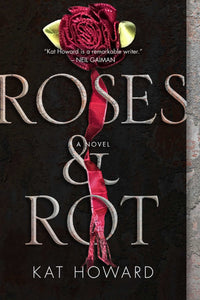 Victoria recommends! Imogen and her sister Marin have escaped their cruel mother to attend a prestigious artists' retreat, but soon learn that living in a fairy tale requires sacrifices, be it art or love.

What would you sacrifice in the name of success? How much does an artist need to give up to create great art?

Imogen has grown up reading fairy tales about mothers who die and make way for cruel stepmothers. As a child, she used to lie in bed wishing that her life would become one of these tragic fairy tales because she couldn't imagine how a stepmother could be worse than her mother now. As adults, Imogen and her sister Marin are accepted to an elite post-grad arts program—Imogen as a writer and Marin as a dancer. Soon enough, though, they realize that there's more to the school than meets the eye. Imogen might be living in the fairy tale she's dreamed about as a child, but it's one that will pit her against Marin if she decides to escape her past to find her heart's desire.
By Kat Howard. Paperback. 320 pages. Published by Saga Press, 2016.
Victoria's thoughts: dark, folkloric and imaginative; operates both as a low fantasy and a mediation on the toxic nature of far too many creative communities.

i would have liked to give this 3.5 stars. it's immersive and understands the power / cruelty of fairy tales, which is refreshing. it has that hazy un-reality of all good fairy tales, but it almost feels like something Howard just got lucky with versus carefully crafted. the dialogue is difficult for me. almost every character speaks the same. the sub-plots seem random and useless. there's a lot of "well, because plot" reasoning, which in a fable / folkloric piece, I'm okay with it. the short stories interspersed that the main character was writing were … just not good. which was frustrating given the context. the romances were eye roll-inducing for me. the tone attempts literary and fails, which makes me wonder why it was even attempted. ""literary"" does not mean better!

all of that said, it's an imaginative low fantasy with a dark streak that doesn't come from shock factor silliness, and I devoured it in a day.