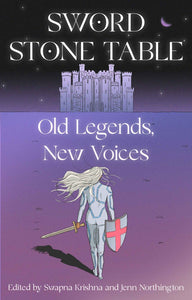 September 2023 Selkie Read! Victoria recommends! 
From the vast lore surrounding King Arthur, Camelot, and the Knights of the Round Table, comes an anthology of gender-bent, race-bent, LGBTQIA+ inclusive retellings. Featuring stories by:
Alexander Chee - Preeti Chhibber - Roshani Chokshi - Sive Doyle - Maria Dahvana Headley - Ausma Zehanat Khan - Daniel M. Lavery - Ken Liu - Sarah MacLean - Silvia Moreno-Garcia - Jessica Plummer - Anthony Rapp - Waubgeshig Rice - Alex Segura - Nisi Shawl - S. Zainab Williams
 
Here you'll find the Lady of the Lake reimagined as an albino Ugandan sorceress and the Lady of Shalott as a wealthy, isolated woman in futuristic Mexico City; you'll see Excalibur rediscovered as a baseball bat that grants a washed-up minor leaguer a fresh shot at glory and as a lost ceremonial drum that returns to a young First Nations boy the power and the dignity of his people. There are stories set in Gilded Age Chicago, '80s New York, twenty-first century Singapore, and space; there are lesbian lady knights, Arthur and Merlin reborn in the modern era for a second chance at saving the world and falling in love--even a coffee shop AU.
Brave, bold, and groundbreaking, the stories in 
Sword Stone Table
 will bring fresh life to beloved myths and give long-time fans a chance to finally see themselves in their favorite legends.
Edited by Swapna Krishna and Jenn Northington. Paperback. 480 pages. Published by Vintage, 2021.


Victoria's thoughts
:
Like all anthologies, this is a bit of a mixed bag, but anything promising me competent Arthurian retellings is worth a shot! There are some real standouts — "Mayday" by Maria Dhvana Headley is an absolutely bonkers masterpiece and Silvia Morena-Garcia's story is by far the best futuristic retelling— and there are some pieces I really struggled with. But, nothing in here is low quality, which I admire. I only wish that overall, there was more queerness and more willingness to play with the personalities and roles of the standard Arthurian characters.