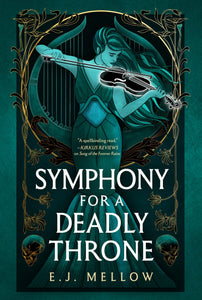 Victoria recommends! From award-winning author E. J. Mellow comes the third and final installment in the Mousai series, following a young woman torn between the man she loves and the kingdom she calls home.

Within the world of Aadilor sits the hidden Thief Kingdom, a land overflowing with magic and mayhem. There the Mousai, a trio of deadly sorceresses, serve the reclusive Thief King, delivering punishment and pleasure to the masses.

Arabessa Bassette is the leader of the Mousai, conducting their powerful gifts with unyielding precision. But behind her mask of control burns a desire to forge her own path—along with a tumultuous relationship with Zimri D'Enieu, her father's right hand and the man who's held her heart since they were children. When an unexpected invitation to vie for the Thief King's throne pulls her into a deadly competition, Arabessa's composure cracks as she finds herself with an impossible choice—give up her greatest love or her greatest ambition.

But sacrifices loom large in the Thief Kingdom, for the quest for power always comes at a price. With her and Zimri's future hanging in the balance, Arabessa must decide if she's willing to pay it.

Welcome to the world of Aadilor, where love is found between cracks and the most mesmerizing symphonies carry lethal notes. Dare to play?
By E.J. Mellow. Paperback. 405 pages. Published by Montlake, 2023.