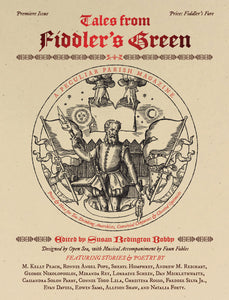 Small press! Our first collection of prose and verse, with an introduction by series editor Susan Redington Bobby and a foreword from Clint Marsh. Published in spring 2021 by Fiddler's Green.
Tales from Fiddler's Green 1 features red foil titling, illustrations throughout by Open Sea Design Co., and 72 pages of short fiction and poetry, including the following:
For Christiana: Write While You May, by M. Kelly Peach

Sofia Rising, by Ronnie Angel Pope

The Whisker Reliquary, by Sheryl Humphrey

Akaz Maxo's Familiars, by Andrew M. Reichart

Memoirs of a One-Time Dragon Slayer's Apprentice, by George Nikolopoulos

The Gate and the Key, by Miranda Rey

The Forest Bride, by Lorraine Schein

If a Tree Falls, by Dan Micklethwaite

The Bone-Handled Walking Stick, by Cassandra Solon Parry

Changeling, by Connie Todd Lila

Siren Song, by Christina Rosso

Beware the Aes Sidhe, by Freddie Silva, Jr.

Two Stones: A Tale from the Medieval Bestiary, by Evan Davies

Shuis Slo Slumus Sheen, by Edwin Sams

Selchie, by Allyson Shaw

Down by the Sea, by Natalia Forty

For Ariana: Dance While You May, by M. Kelly Peach
BONUS FLEXI-DISC
Paperback. 70 pages. Published by Fiddler's Green, 2021.