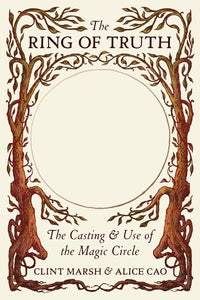 "The treasure I'm after isn't silver or gold. I don't want to know how to turn invisible, and I'm not in search of my one true love. I'm making the circle because I want to open a window between this world and the magical one, the place where elves and dreams of flight are born."

Haunted by fascination, a teenage boy undertakes an ancient ritualistic working for answers to questions unfathomable by science and religion. Submitting himself to the mysteries of the magic circle, he risks spiritual sacrifice in a gamble to step into adulthood without the loss of childhood wonder.
Clint Marsh's candid memoir serves as a guide for anyone yearning for a more magical way of engaging with life. By turns personal and practical—complete with a five-point system for crafting your own magic circle—this essay features dreamlike illustrations by Alice Cao.
Clint Marsh uses elements of myth, magic, folklore, and humor to help ­people navigate everyday life. He is the ­editor of Fiddler's Green Peculiar Parish Magazine and a winner of the Bookseller/Diagram Prize.
Alice Cao is an illustrator specializing in traditional pen-and-ink with the occasional splash of watercolor. Originally hailing from Vietnam, she loves to explore history, mythology, and folklore in her work, and can be found conjuring inky worlds in her home studio in the old town of Shrewsbury, Shropshire.
By Clint Marsh & Alice Cao. Leaflet. 36 pages, with a full-color copper-foiled cover and fourteen black-and-white illustrations. Published by Fiddler's Green, 2023.