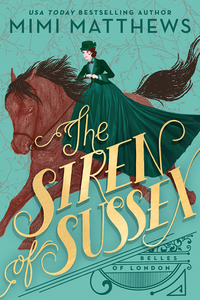 Victoria recommends! Victorian high society's most daring equestrienne finds love and an unexpected ally in her fight for independence in the strong arms of London's most sought after and devastatingly handsome half-Indian tailor.

Evelyn Maltravers understands exactly how little she's worth on the marriage mart. As an incurable bluestocking from a family tumbling swiftly toward ruin, she knows she'll never make a match in a ballroom. Her only hope is to distinguish herself by making the biggest splash in the one sphere she excels: on horseback. In haute couture. But to truly capture London's attention she'll need a habit-maker who's not afraid to take risks with his designs—and with his heart.

Half-Indian tailor Ahmad Malik has always had a talent for making women beautiful, inching his way toward recognition by designing riding habits for Rotten Row's infamous Pretty Horsebreakers—but no one compares to Evelyn. Her unbridled spirit enchants him, awakening a depth of feeling he never thought possible.

But pushing boundaries comes at a cost and not everyone is pleased to welcome Evelyn and Ahmad into fashionable society. With obstacles spanning between them, the indomitable pair must decide which hurdles they can jump and what matters most: making their mark or following their hearts? 
This is a used copy in very good condition. 
By Mimi Matthews. Paperback. 336 pages. Published by Berkley, 2020.
Victoria's thoughts: a sheer delight! the chemistry between the lead characters was palpable and they were both such interesting people. a few things: I'm not sure the thread of spiritualism needed to be worked in here and I would have taken a little more spice if offered, though I know that's not usually the way of Victorian romance! will definitely read the author's other books.