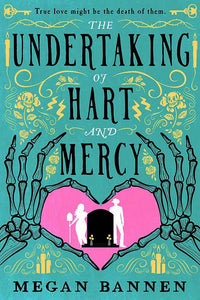 Hart Ralston is a demigod and a marshal, tasked with patrolling the wasteland of Tanria. The realm the exiled old gods once called home is now a forsaken place where humans with no better options or no better sense come seeking adventure or spoils, but more often end up as drudges: reanimated corpses inhabited by the souls of those who've died in Tanria before. Hart tells himself that his job is simple: neutralize the drudges with a quick zap to the appendix and deliver them back to polite society at the nearest undertaker's, leaving the whys and hows of the drudge problem for men without the complexities of a god in their family tree. But working alone, Hart's got nothing but time to ponder exactly those questions he'd most like to avoid.

Too much time alone is the opposite of Mercy Birdsall's problem. Since her father's decline, she's been single-handedly keeping Birdsall & Son undertakers afloat in small-town Eternity—despite definitely not being a son, and in defiance of sullen jerks like Hart Ralston, who seems to have a gift for showing up right when her patience is thinnest. The work's not the problem—Mercy's good at it, better than any other Birdsall—but keeping all her family's plates spinning singlehandedly, forever, isn't how Mercy envisioned her future.

After yet another run-in with the sharp-tongued Mercy, Hart considers she might have a point about his utter loneliness being a bit of a liability. In a moment of sentimentality, he pens a letter addressed simply to "A Friend," and entrusts it to a nimkilim, an anthropomorphic animal messenger with an uncanny connection to the gods, (and in Hart's case, a bit of a drinking problem). Much to his surprise, an anonymous letter comes back in return, and a tentative friendship is born.

If only Hart knew he's been baring his soul to the person who infuriates him most–Mercy. As the two unlikely pen pals grow closer, the truth about Hart's parentage and the nature of the drudges creeps in. And suddenly their old animosity seems so small in comparison to what they might be able to do: end the drudges forever. But at what cost?
By Megan Bannen. Paperback. 448 pages. Published by Little, Brown Book Group, 2022.