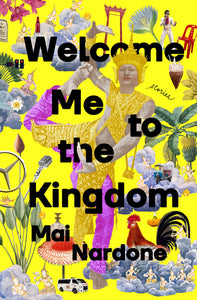 An immersive debut set across the temples, slums, and gated estates of late-twentieth century Bangkok, Welcome Me to the Kingdom tells the story of three families striving to control their own destinies in a merciless, sometimes brutally violent, metropolis.

Spanning decades and perspectives, seamlessly shifting between the gothic and the tenderhearted, Welcome Me to the Kingdom announces the arrival of an immensely talented new voice in literary fiction. Orbiting the devastating financial crisis of 1997, these interwoven stories introduce us to three families--a Thai Elvis impersonator and his only daughter, a family abandoned by their white American patriarch, and an adoptive brotherhood of oprhaned boys--who employ various schemes and strategies to conceal, betray, lie, and seduce their way to achieving the "good" life.

Sex tourism and Buddhist cults threaten to overtake the nation while Elvis impersonators compete for their respective legacies. A spirit medium channels southern Thailand's secessionist anger into her bloody but essential work. Two strivers, down on their luck in the midst of the recession, enter a cock-fighting tournament with a legendary bird. An American leaves his family and expatriates to Bangkok, sold on the idea of an easy country--then abandons it when the Thai economy is upended. And in a city where class is fate, two friends volunteer as first responders to accumulate karmic merit toward their next lives.

Wildly imaginative and ambitious, Mai Nardone's stories capture the growing discrepancy between Thailand's smiling self-image and its ugly obverse. Through skin-whitening routines, cult conversion, Elvis costumery, gambling, and sex work, the collection's characters look for reinvention in a city unmade by a financial crisis, in a kingdom caught between this world and the next.
By Mai Nardone. Hardcover. 288 pages. Published by Random House, 2023.