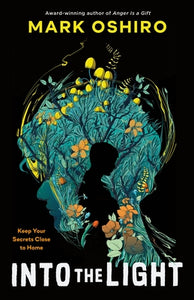 New release! It's been one year since Manny was cast out of his family and driven into the wilderness of the American Southwest. Since then, Manny lives by self-taught rules that keep him moving—and keep him alive. Now, he's taking a chance on a traveling situation with the Varela family, whose attractive but surly son, Carlos, seems to promise a new future.

Eli abides by the rules of his family, living in a secluded community that raised him to believe his obedience will be rewarded. But an unsettling question slowly eats away at Eli's once unwavering faith in Reconciliation: Why can't he remember his past?

But the reported discovery of an unidentified body in the hills of Idyllwild, California, will draw both of these young men into facing their biggest fears and confronting their own identity—and who they are allowed to be.

For fans of Courtney Summers and Tiffany D. Jackson, Into the Light is a ripped-from-the-headlines story with Oshiro's signature mix of raw emotions and visceral prose—but with a startling twist you'll have to read to believe.
By Mark Oshiro. Hardcover. 448 pages. Ages 13-18. Published by Tor Teen, 2023.