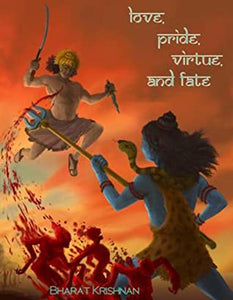 You might know that Greek gods interfered on both sides of the Trojan War, but did you know that Hindu gods fought alongside both the Pandavas and Kauravas in the Mahabharata? In the same way the ancient Egyptians worshipped Ra above all else, did you know that the monkey-god, Hanuman, gained his wisdom from the sun? Did you know that Krishna and Hercules are often linked to a past that includes Alexander the Great's conquests? And just as Noah had his ark, one of Lord Vishnu's avatars had a similar tale for Hinduism. All of us share the same stories because the things that unite us are far greater than the things that divide us.

I wrote this book because I wanted my loved ones to hear about Rama and Krishna and Saraswati as they also learned of Thor and Hercules, of Horus and Ra, of Noah and Moses. In these twenty-five tales, you will be immersed in Hinduism in a way that highlights the traits I found most compelling in my research - tales of love, pride, virtue, and fate.
By Bharat Krishnan. Paperback. 103 pages. Published 2019.