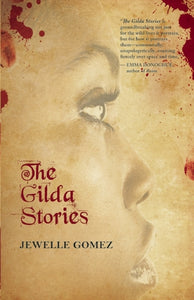 Before Buffy, before Twilight, before Octavia Butler's Fledgling, there was The Gilda Stories, Jewelle Gomez's sexy vampire novel.

"The Gilda Stories is groundbreaking not just for the wild lives it portrays, but for how it portrays them--communally, unapologetically, roaming fiercely over space and time."--Emma Donoghue, author of Room

"Jewelle Gomez sees right into the heart. This is a book to give to those you want most to find their own strength."—Dorothy Allison

This remarkable novel begins in 1850s Louisiana, where Gilda escapes slavery and learns about freedom while working in a brothel. After being initiated into eternal life as one who "shares the blood" by two women there, Gilda spends the next two hundred years searching for a place to call home. An instant lesbian classic when it was first published in 1991, The Gilda Stories has endured as an auspiciously prescient book in its explorations of blackness, radical ecology, re-definitions of family, and yes, the erotic potential of the vampire story.

Jewelle Gomez is a writer, activist, and the author of many books including Forty-Three Septembers, Don't Explain, The Lipstick Papers, Flamingoes and Bears, and Oral Tradition. The Gilda Stories was the recipient of two Lambda Literary Awards, and was adapted for the stage by the Urban Bush Women theater company in thirteen United States cities.

By Jewelle L. Gómez. Paperback. 259 pages. Published by City Light Books, 2016.